AM I BEING CATFISHED??!
Many people are catfished every year, enough that they can even run a show about it.
Around 83 million Facebook accounts are assumed fake
One study found that 1 in 10 dating profiles are fake.
Another study found that 1 in 3 of people who took part had been catfished.
The same study found 43% of men have been catfished and 28% of women
Catfishing has no boundaries, it can affect anyone and anyone can be a catfish.
64% of catfishes are women
40% of men lie about position and salary
So, if you think you are getting catfished, you probably are.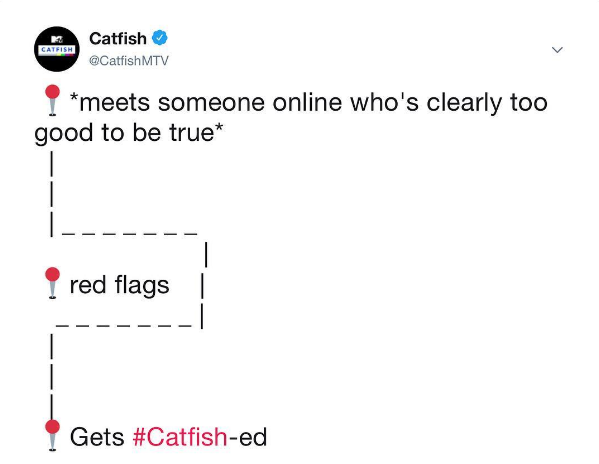 There are some signs though, to tell whether you are being catfished or not...:
Catfishers often avoid making calls, they might not be able to hide their voice.
If they do call, watch out for backgrounnd noise. No background noise, red flag.
Catfishers often won't send pictures from the current time, as they can't. They also don't have a webcam and can't make video calls.
They keep putting off plans, but promise they will meet with you later. They often have very dramatic reasons as to why they had to cancel.
They ask you for money, or bribe you to do things for either money or meeting up with you.
They have less than 100 friends on their social media, and no mutual friends with you.
They have a very glamourous, almost too good to be true, profession.
The photos they send are vbad quality, or they just don't seem quite right.
So, if you are pretty sure you are getting catfished, and need help. Visit here!
BACK